The EUBBC-Digital team from Universidad Privada Boliviana (UPB-BOL), has developed and implemented the first remote laboratory in Bolivia, in the area of optical spectrometry.
Spectrometry Remote Lab Kit
The "Spectrometry Remote Lab Kit" consists of a low-cost smartphone spectrometer, which includes a miniaturized spectrometer, an App for control, data collection, and storage of the obtains spectra.
The Remote Lab allows students and teachers to remotely conduct experiments with spectrometry equipment under real experimental conditions. This helps students to have a deeper understanding of the solar spectra theory, through experimentation with different optical sources that emulates the temperature of color of the sun, and also to understand how to calibrate and operate spectrometry devices.
The "Spectrometry Remote Lab Kit" is based on a low-cost smartphone spectrometer, developed at UPB-BOL back in 2017. The Kit can be connected to the internet and wireless send spectrometry data and includes an Internet of Things (IoT) control device which can turn ON/OFF the light sources and control a stepper motor. Both the smartphone spectrometer and the IoT device are connected to a web platform that was developed at UPB-BOL from scratch.
The smartphone uses an inhouse App for data processing, collection, and storage, with the ability to send data wirelessly over the Internet. The Remote Lab server and web platform was installed and deployed, allowing the learners to remotely calibrate and operate the spectrometer. The Remote Lab also allows students to visualize the experiment through a webcam and to collect spectral data in real-time. The students can also store the data of the experiments and analyze it after the remote lab session. The picture shows the Spectroscopy Remote Laboratory web interface for the use and control of the spectrometer and collection of real-time data.
Spectrometry Remote Lab Web
The Spectrometry Remote Lab Web interface allows students to remotely calibrate, control, and collect spectral data.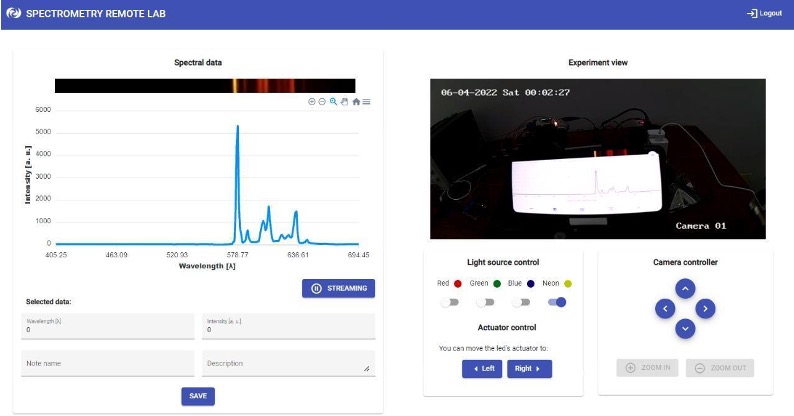 To ensure that each user can reserve a time slot of the remote lab equipment, and use it without any perturbation by other users, the UPB-BOL team also implemented a web-based Remote Lab Booking System, that can be used by any other EUBBC-Digital Remote Laboratory.
The source code of the Booking system will be shared as an Open Source project on Github, allowing other EUBBC-Digital partners to extend it, modify and add new features. The Remote Lab Booking System requires only small changes on the existing remote lab server code to use the available features.
Booking system
The web-based Remote Lab Booking, allows students to reserve the spectrometry remote lab equipment to individually perform the experiments.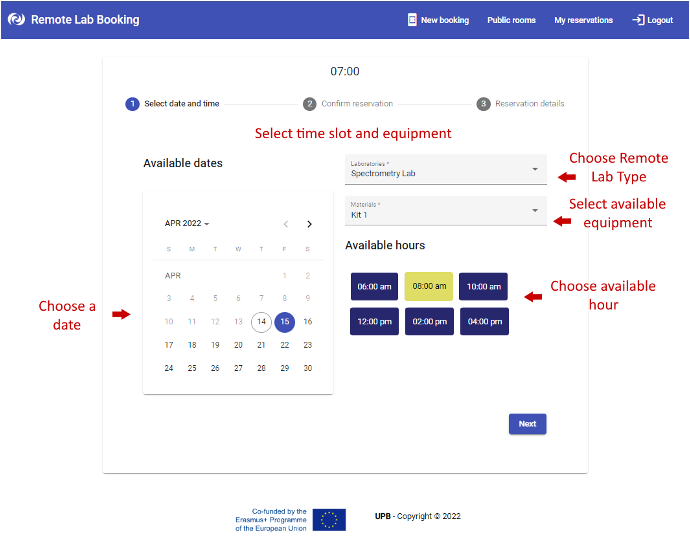 The Spectrometry Remote Lab was tested with a group of undergraduate students (Optics and Modern Physics lecture), remotely connected from 3 different cities in Bolivia (Cochabamba, La Paz, and Santa Cruz). The students gave valuable feedback to improve the Remote Lab Web application and were able to run experiments and write a final report.
The news of the First Remote Lab in Bolivia, was also shared in the official UPB-BOL's Facebook Page. https://www.facebook.com/UPBoficial/videos/534621undefined
---